›

Programs

All of our classrooms focus on the emergent curriculum; teachers observe the children's interests and abilities and plan activities accordingly.  The challenge for teachers in preparing our curriculum is to find ways to make learning developmentally appropriate and enjoyable.

3 Year Olds:
In order to be admitted as a 3-year-old, the child must be 3 by October 1, and toilet-trained.  The 3's focus on being comfortable separating from their familiar adults, gaining independence, and becoming aware of membership in a group.   The children play freely with classroom materials, and engage in projects that involve group participation and cooperation. Often the 3-year-olds need support as they learn to transition comfortably from their classroom to music, creative dramatics, science, and wood shop.

4 Year Olds:
The three 4-year-old classes are grouped homogeneously by age, and again, teachers observe and prepare their curricula according to the children's maturity and interests.  There are multiple opportunities for the 4's to work with numbers and letters and to explore concepts.  Story time gives them the opportunity to learn to listen and ask questions. Time with the special teachers (music, creative dramatics, science, and wood shop) enables them to interact with a variety of teachers.

Morning preschoolers may stay for our "Lunch Bunch" program as few as 2 days a week or as many as 5.  Their afternoons provide opportunities to interact with children who are in various morning classes, and to select from a variety of options, including art, game room and table activities.  Lunch Bunch begins where the morning program ends, at 11:45, and ends at 2:45.

Kindergarteners:
SPNDS offers a "kindergarten complement" – an opportunity for children to add to their kindergarten experience by coming to us either before or after their more formal programs in District schools.   The kindergarten curriculum is interdisciplinary; it focuses on habitats, and the direction it takes depends on the interests of the children.

The motto at SPNDS is "learning joy," and when school is in session, you do hear the sounds of happy children!
›

 Nursery School Hours & Fees
Regular Nursery Day School Hours: 9:00am-11:45am
Extended Day Program (Lunch Bunch): 11:45am-2:45pm
Morning Kindergarten Complement: 9:00am-12:30pm
Afternoon Kindergarten Complement: 11:45am-3:00pm
"Early Bird" Dropoff: 8:30am
"Stay & Play" Pickup: 3:30pm
PROGRAM
YEARLY FEE
Regular Nursery Day School
Yearly Fee
$4,200
Extended Day Program (Lunch Bunch)
5 Days per Week
$3,750
4 Days per Week
$3,550
3 Days per Week
$3,250
2 Days per Week
$3,000
Kindergarten Compliment (AM or PM Classes)
Yearly Fee
$4,350
"Early Bird" Drop-off
5 Days per Week
$750
4 Days per Week
$700
3 Days per Week
$650
2 Days per Week
$600
1 Day per Week
$550
"Stay and Play"
5 Days per Week
$750
4 Days per Week
$700
3 Days per Week
$650
2 Days per Week
$600
1 Day per Week
$550
›

Contact Information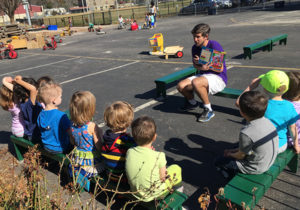 Cathy Conahan
SPNDS Interim Director
727 Harvard Avenue
Swarthmore, PA 19081
Phone: 610-543-2861
SPNDS@swarthmorepres.org