Swarthmore Presbyterian Nursery Day School
Swarthmore Presbyterian Nursery Day School (SPNDS) has been serving the children and families in Swarthmore and nearby communities for 65 years. The school offers young children a happy and purposeful group experience. In doing so, we work in partnership with families in nurturing each child's development outside the home. We adhere to the developmentally appropriate practices and standards established by the National Association for the Education of Young Children; we have been accredited by NAEYC since 1995.
SPNDS is inclusive: children and teachers of all races and religions are welcome. Students with physical and/or developmental disabilities are accepted if the school can adequately meet their needs. Scholarships are given to children whose families need help with tuition.
We view the child as a whole, developing being. All areas of development—social, emotional, cognitive, and physical—are of equal importance. We help children express their individuality while learning to respect the rights of others.
Our teachers design their programs with the knowledge that children learn best from taking an active role in the process. Thus, much of what is provided allows the child to manipulate, discover, experience, and create. The teacher serves to guide this process by planning an environment based on the varied interests and developmental levels of each child, and by being a source of support and information.
Outdoor play is an important part of our program. The apparatus, wheel toys, and building materials are designed to develop a wide range of gross motor skills—and the playground offers the opportunity for interacting with a multi-age group of children.
We realize that families entrust their children to us at a very early age. In response to this trust, teachers endeavor to create a supportive atmosphere respectful of children's feelings, needs, and concerns. We respect the integrity of each family with its own patterns and preferences. Our hope for our children is that they will grow to be happy, relaxed, self-confident people who are eager to learn.
›

Contact Information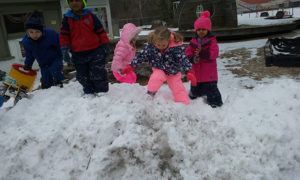 Cathy Conahan
SPNDS Interim Director
727 Harvard Avenue
Swarthmore, PA 19081
Phone: 610-543-2861
SPNDS@swarthmorepres.org